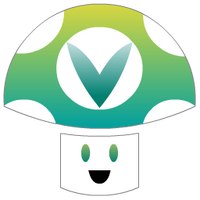 The Vineshroom is the logo of Vinesauce.
Conception
The Vineshroom was originally created by Vinny himself, who based it off the 1-Up Mushroom from Super Mario when he first made the stream.
The Vineshroom eventually underwent a redesign by an old community member named "Roris", who provided two versions of the logo at first.[1] The Vineshroom with the big "V" on its cap has since then been the logo of both Vinesauce and Vinny's online profile.
Joel later designed the Vineshrooms for himself (called the Vargshroom), GPM, and Rev.[2]
Gallery
See also
References
Vinesauce - The Sauciest Streams on the Net
Vinesauce Crew
Current Streamers
Former Streamers
Associates
Guests & Friends

Criken

Jerma985

A Jolly Wangcore

Liam Triforce

SimpleFlips

Vinesauce Content
Games streamed

Among Us

Bugsnax

Call of Duty

Cyberpunk 2077

Doom Eternal

Dwarf Fortress

Grand Theft Auto III

Halo Infinite

The Legend of Zelda

Mario Kart

Microsoft Flight Simulator

Resident Evil 7

Resident Evil: Village

RimWorld

Stardew Valley

Super Mario Maker

Super Smash Bros.

VRChat

Stream series
Other streams
Memes
Fangames

Joel Gets Meaner Everyday

Super Sponge World

Miscellaneous