| | | |
| --- | --- | --- |
| " | "Geese are honking feathered shitbags." I agree, I think geese are the stupidest creatures. They're dicks. They smell, they shit everywhere, on baseball fields. And they scream. They just fucking scream while they're flying. Like I don't see pigeons screaming. | " |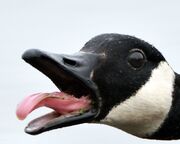 Geese, and ducks to a lesser extent, have been a running gag by Vinny since the beginning of his streams. Whenever the topic of these birds were brought up, Vinny would express extreme hatred towards them, and believed at one point that they are "stupidest creatures" on the planet worthy of extinction.
However ever since his stream of Untitled Goose Game in September 2019, Vinny appeared to have a change of heart towards those avian creatures.
Videos
See also
Vinesauce - The Sauciest Streams on the Net
Vinesauce Crew
Current Streamers
Former Streamers
Associates
Guests & Friends

Criken

Jerma985

A Jolly Wangcore

Liam Triforce

SimpleFlips

Vinesauce Content
Games streamed

Among Us

Bugsnax

Call of Duty

Cyberpunk 2077

Doom Eternal

Dwarf Fortress

Grand Theft Auto III

Halo Infinite

The Legend of Zelda

Mario Kart

Microsoft Flight Simulator

Resident Evil 7

Resident Evil: Village

RimWorld

Stardew Valley

Super Mario Maker

Super Smash Bros.

VRChat

Stream series
Other streams
Memes
Fangames

Joel Gets Meaner Everyday

Super Sponge World

Miscellaneous